Alakai Paleka of KPOA Radio Maui
An introduction to Hawaiian music radio station personality, DJ, event MC, and program director Alakai Paleka.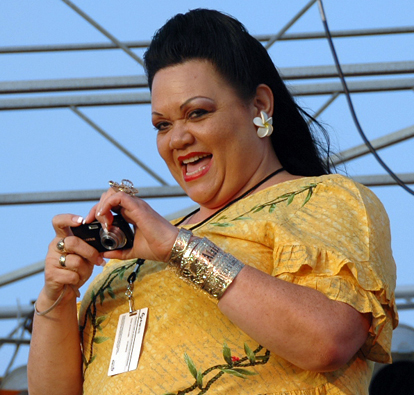 Copyright © Kathleen Walling Fry
More Santa Monica Pier Pictures
---
Facts About Alakai Paleka
Full Name is Leslyn Mililani Paleka
Goes by: Alakai Paleka (on the air she is known as "Alakai" and "Maui's Morning Goddess")
Alakai is program director for Maui contemporary Hawaiian music radio station KPOA (93.5).
Her father was entertainer Daniel "Bully" Palaka, Sr., He died on June 3, 2006.
In 1993 Alakai Paleka's recording of the song "Christmas Everywhere" was released on the album Females Hawaii Christmas.
Was her recording of "Santa Baby" included on the album Moonbows for Christmas?
In 2008 her recording with Willie K of "Maui Medley" was included on The Pink CD, a recording for which proceeds were contributed to the Maui Memorial Medical Center Foundation to help fund breast cancer awareness and education.

How to Contact Alakai
Alakai Paleka, Program Director
KPOA Radio (93.5 FM)
311 Ano Street
Kahului, Maui, Hawaii 96732-1304
Station Main Phone: 808-877-5566
Station Request Line: 808-893-8935

See also:
---
Related Resources
Hawaiian Music Artists - Main Menu
Music of Hawaii
Hawaii for Visitors
---