Marlene Sai Bio and Photos
This picture of Hawaii's classic-style female solo singer Marlene Sai was taken while Marlene was performing as a special guest at Amy Hanaialii's August 2008 CD release party.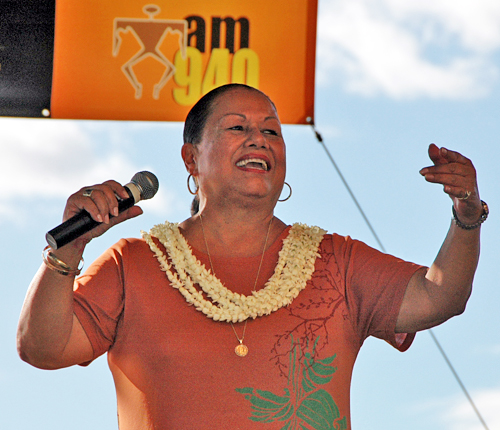 Copyright © Kathleen Walling Fry
---
Marlene Sai Photos and Articles
Marlene Sai with Genoa Keawe in 2003 .

Facts About Marlene Sai
Ethnic Heritage: Hawaiian-Chinese
Attended Kamehameha School for Girls
Andy Cummings was her Uncle
Don Ho Discovered her at Honey's in Kaneohe
Best Female Vocalist 1986 Na Hoku Hanohano Award
Two of her signature songs are "Kainoa" and "I Love You"

Some of Marlene Sai's Most Recent Activities
Starred in the dinner show "This Is Hawaii" at the Hale Koa Hotel
Served as president of the Hawaii Academy of Recording Arts
Served on the board of the Honolulu Boy Choir
Served on the board of the Mayor's Office of Culture and the Arts
Operates her own company called Blue Rain Entertainment

Albums Recorded by Marlene Sai
Recordings made by Marlene Sai available today on CD or as MP3 downloads include Mele No Ka Oe, Her album "Marlene", for which she was received the 1986 Female Vocalist of the Year Na Hoku Hanohano Award, is hard to find today.

Video Clips of Marlene Sai
---

Related Links
Hawaiian Music Artists - Main Menu
About Hawaiian Music
Hawaii for Visitors

If you have corrections or updates to the any of the information on this page or if you have information or pictures to share about your favorite Hawaii singer or musician please send them to one of the addresses on our contacts page. Note that we can only publish official press photos or other photos for which we have received permission from the photographer. We respect the copyrights of photographers, performers, and writers.
---