About Richard Gideon
An introduction to Hawaii guitar and ukulele player, singer, and Maunalua band member Richard Gideon.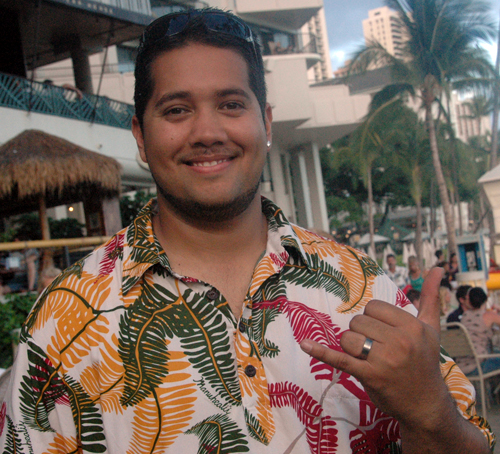 Copyright © Kathleen Walling Fry
---
Facts About Richard Gideon
Member of the band Maunalua since Spring 2009
Performed at the Paradise Cove Luau for 2.5 years
Recorded an album with Kaena, is former band
Plays ukulele, Tahitian Banjo, bass guitar, rhythm guitar
Grandson of Alofanene Hunkin-Misi

Singer Brings New Sound to Maunalua
This article by John Berger in the July 24, 2009 Honolulu Star Bulletin article introduces new Maunalua band member Richard Gideon.

Maunalua's Richard Gideon Bio
Richard Gideon profile on the official Web site of Maunalua, the popular, award winning, contemporary Hawaiian music band Richard was invited to join in the Spring of 2009.

See also:
---

Related Links
Hawaiian Music Artists - Main Menu
Music of Hawaii
Hawaii for Visitors

If you have corrections or updates to the any of the information on this page or if you have information or pictures to share about your favorite Hawaii singer or musician please send them to one of the addresses on our contacts page. Note that we can only publish official press photos or other photos for which we have received permission from the photographer. We respect the copyrights of photographers, performers, and writers.
---