About Jeff Peterson
Hawaii's Guitar Virtuoso
A fan site and introduction to Hawaiian music artist Jeff Peterson.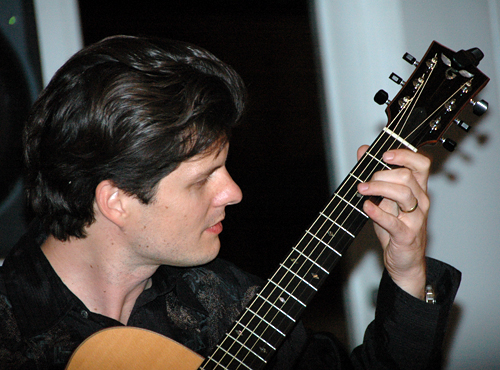 Copyright © Kathleen Walling Fry
---
Facts About Jeff Peterson
Born in Makawao on the island of Maui
His part-Hawaiian father was a cowboy on the Halekeala Ranch
Was influnced by the classic recordings of the Gabby Pahinui Band, Leonard Kwan, and Sonny Chillingworth
Studied jazz and classical guitar at he Univesity of Southern California and the University of Hawaii at Manoa.
His interest and training is in playing Hawaiian music, jazz, and classical music and also in writing new music.
The compilation album on which he was included with other artist "Slack Key Guitar, Volume 2" won the first Hawaiian music grammy ever awarded. 2005.
He performs regularly at many venues in Hawaii and in other parts of the world and
He has been performing several times a week since (I think) 1999 at the "Michel's at the Colony Surf" Restaurant on the far Diamond Head end of Waikiki.

The Recordings of Jeff Peterson

Jeff Peterson's Official Web Site
JeffPetersonGuitar.com

See also:
---
Related Links
More About Hawaiian Music Artists
Hawaii Music - Main Menu
Hawaii for Visitors
---