About Palani Vaughan
An introduction to Hawaii performer Palani Vaughan, who is perhaps most well known for stimulating a revival of interest in Hawaii's King Kalakaua when he recorded a four album series of recordings devoted to the King.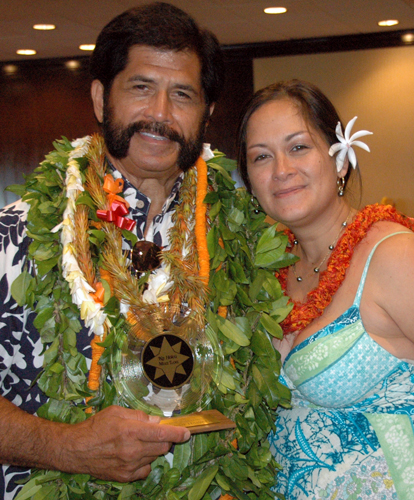 Copyright © Kathleen Walling Fry
---
Facts About Palani Vaughan
Born: May 27, 1944 in Honolulu
Full Name: Frank Palani Vaughan Jr.
Goes By: Palani Vaughan
K-12 School: Kamehameha Schools
University of Hawaii, Bachelor of Fine Arts

Recordings of Palani Vaughan
Information about the King Kalakaua tribute albums recorded by Palani Vaughan, the album he recorded as one of the founding members of the group Sunday Manoa, his recordings on Hawaii Calls radio show albums, and other solo and compilation albums featuring songs performed by Palani Vaughan.

Some of Palani Vaughan's Most Popular Recordings
In November of 1981, six songs recorded by Palani Vaughan were included on Radio Station KCCN 1420 AM's third annual list of the top 150 island songs:
#34 - "Ipo Lei Manu"
#45 - "Ka Mamakakaua"
#48 - "Eia No Kawika/Kalakaua He Inoa"
#63 - "He Pua Wehiwa"
#118 - "Ia Oe E Ka La"
#128 - "Heeia"

Palani Vaughan, Peter Moon, and The Sunday Manoa
Palani Vaughan and Peter Moon met while they were both taking a course on Hawaiian art history at the University of Hawaii. They decided to form and band called Sunday Manoa and record an album together. Their first album was called "Palani Vaughan and the Sunday Manoa" and it also featured Gabby Pahinui's son Cyril Pahinui and Albert "Baby" Kalima. After that album was released, Palani Vaughan left the group to serve in the miitary.

Palani Vaughan on the Hawaii Calls Radio Program
Palani Vaughan was one of the featured performers on the Hawaii Calls Radio Program. He was featured on at least two Hawaii Calls albums, "Music From the Land of Aloha" and "Blue Hawaii".

Palani Vaughan and The King's Own
Palani later formed the "King's Own", and began to study, compose, publish, record, and perform tributes to King David Kalakaua and Hawaii's Monarchy period. Palani and The King's Own recorded four albums in the 1970's and early 1980's in honor of King Kalakaua.

Hawaiian Music Hall of Fame Induction
Palani Vaughan was inducted into the Hawaiian Music Hall of Fame in 2008.

Video Clips Featuring Palani Vaughan
Palani Vaughan on King Kalakaua - Video 1II
Articles and Forum Discussions About Palani Vaughan
Taro Patch "Ka Mamakakaua" Discussion

Books by Palani Vaughan
TITLE: Na Leo I Ka Makani
TRANSLATED: Voices on the Wind: Historic Photographs of Hawaiians of Yesteryear
AUTHOR: by Palani Vaughan
BINDING: Hardcover
PUBLICATION DATE: October 1987
Google Books Listing

See also:
---

Related Links
Other Hawaiian Music Artists
Music of Hawaii
Hawaii for Visitors

If you have corrections or updates to the any of the information on this page or if you have information or pictures to share about your favorite Hawaii singer or musician please send them to one of the addresses on our contacts page. Note that we can only publish official press photos or other photos for which we have received permission from the photographer. We respect the copyrights of photographers, performers, and writers.
---