Aziel Toeaina
Contemporary Hawaiian Music Artist
Articles and information about contemporary Hawaiian music artist Aziel Toeaina. Two of Azeil's biggest chart-topping hits were "Falling in Love Again". and Stevie Wonder's "Ribbon in the Sky".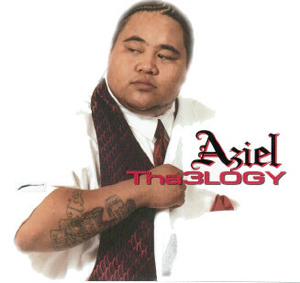 Aziel's 2005 Album Tha3logy
---
Facts About Aziel Toeaina
Birth Date: January 1, 1978
Birth Place: San Francisco, California USA
Ethnic Heritage: Samoan
First album was released under the name "AZ"
Now Goes by Aziel, and sometimes Zee
Given Name: Aziel Al Toeaina
Changed name to avoid confusing with Moetown AZ
Switched labels in 2004
from Mafiuso to LastOne Productionz
He was 25 as of May of 2003 (BD?)
He was 29 in January of 2008
Mother: Lefefe Toeaina
Father: Reverand Mataifale
Brother: Pastor Alexander M. Toeaina
Brother: Reverand Albert Toeaina
Sister: Ofaira Taito
Sister: Lagi Williams (passed away)
High School:
Married wife Sofaea Tahirih Tanielu in 2004
Had 5 children as of September 2005
Accused of Murder in 2003, acquitted in 2006
Attended four high schools in the San Francisco Bay Area: Jefferson High School in Daly City, Berkeley High School, Wilson High School, and he graduated from J. Eugene Mcateer High School.
First Performance: The Saint Elizabeth Talent Show in Daly City, California

Awards Won By Aziel Toeaina
2006 Hawaii Music Award for Best R&B

Articles About Aziel Toeaina
Sing365 Bio of Aziel Toeaina
Recordings by Aziel Toeaina
Take You Away
RELEASE DATE: May 3, 2005
LABEL: Octane Records
IMAGES ON THE ALBUM COVER
500 x 500 pixil album cover image

Take u Away
RELEASE DATE: 2002 (out of print)
ALBUM COVER IMAGES:
300 x 303 pixel album cover image
SONG'S ON AZIEL'S TAKE U AWAY ALBUM
Take U Away
Try Me
Walk in My Life
Thug Thang
Indi Moanin
No Relation
What About Me
Fall in Love Again
Show Me
Take U There
Keep It on the Hush
Brothers Song
Thank You

Tha3logy
RELEASE DATE: January 2005
LABEL: LastOne Productions
IMAGES OF THE ALBUM COVER
300 x 300 pixil album cover image
SONGS ON AZIEL'S THA3LOGY ALBUM
01. Intro
02. Miss U Much
03. Bright Sunny Day
04. Haterz introducing Focus
05. I Destroyed Your Love
06. My Lady featuring B.E.T.
07. Put Your Trust In Me
08. Mary Jane featuring Phat Pat from FOCUS
09. Get Up Off It
10. 2 Types featuring Vince Moe & Vatala Coleman
11. Sofi featuring Cherie
12. Spend My Life WIth You
13. Iím All Ready To Fall
14. Vi Vii Atu Ia
Booklines Description of Tha3logy

Show U Love CD? (or Show You Love)

Project 808
RELEASE DATE: 2003
LABEL: Oceanbeat Records
NOTE: Aziel performed as AZ on this album
SONGS ON THE ALBUM
Party Allknight (Shella, Lil Blaze One, Mykelob & Onique)
Come With Me Tonight (Cliff Iokia, Prophit
You Don't Understand Me (AZ, Bladez, Prophit)
Every Dog Has It's Day (Shadow Huntaz, Baby Anne)
Make You Mine (Riccy Boy and Kimo James)
The Message (Glisten and Jevan)
Out Here Honolulu (Trace and Kimo James)
Urban Island (Shadow Huntaz and Glisten)
Hip Hop World (Mr Re)
Katana Speaks
One Time For Yo Mind (Aiga)
Too Many - The Crew)
Survival in the Game (B.E.T. and Oshen)
No More Drama (The Tomboy and Forte)
The Journey (Glisten and Cliff Iokia)
Tequila Sunrise (Fiji and Snaps)
Irresistable Woman (Fiji)
IMAGES OF THE ALBUM COVER
Booklines Description of Project 808

See also:
---

Related Links
More About Hawaiian Music Artists
Hawaii Music - Main Menu
Hawaii for Visitors

Elsewhere on the Web
1998 Felony Drug Conviction
2003 May 19: Local Singer Arrested in Ala Moana Shooting
2003 Jun 07: Aziel Inducted by Oahu Grand Jury
2005 Jul 27: Trial Begins in Ala Moana Attempted Murder
2005 Aug 06 Juror's Departure Forces Mistrial
Aziel was tried twice for 2nd degree attempted murder
Was cquitted of all charges in December of 2006
2008 Jan 01: Hip-Hopper is Accused in Drug Sting
2008 Jan 01: Meth Distribution Charges for Musical Artist
2008 Jan 02: Toeaina Arrested for Ice Possession
Federal Criminal Complaint accused him of distributing eight ounces of crystal methamphetamine. He was arrested on December 19, 2007 at an apartment where DEA agents seized about $30,000 in three unwrapped boxes of Hawaiian Host chocolates.
---