Mahi Beamer Bio and Photos
Mahi Beamer - born Edwin Mahiai Beamer - is the grandson of legendary singer, pianist, and composer Helen Desha Beamer. He is most well-known for his ability to sing very high register falsetto songs and for carrying on his grandmother's legacy by translating her Hawaiian language compositions into English and introducing them to the general public by recording them on albums in the 1960's. He is also an accomplished hula dancer and composer.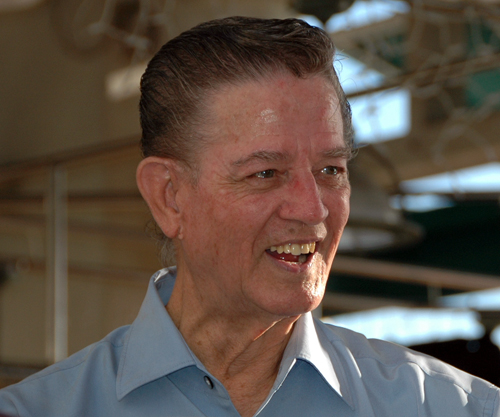 Copyright © Kathleen Walling Fry
---
Facts About Mahi Beamer
Birth Place: Honolulu
Full Name: Edwin Mahiai Copp Beamer
Goes By: Mahi Beamer
Nickname: "Uncle Mahi"
Birth Place: Honolulu, Hawaii
Grandmother: Helen Desha Beamer
Mother: Mildred Kaaloehukaiopuaena Copp Beamer
Father: Milton Hoolulu Desha Beamer Sr. (born: 1903)
Graduated from Kamehameha Schools High School in 1946
Studied Music at the University of California Santa Barbara
Studied at the Julliard School of Music
Performed at Carnegie Hall in New York
Served in the U.S. Army 1951-1953 by playing piano and glockenspiel at the Schofield Base
Performed in Waikiki after serving in the military
Performed at Waikiki's Queen's Surf Nightclub 1954-1959
Recorded two albums in 1959, "The Remarkable Voice of Hawaii's Mahi Beamer in Authentic Hawaiian Songs, and "More Authentic Island Songs by Mahi, Hawaii's Most Remarkable Voice". The latter featured songs composed by his grandmother, Helen Desha Beamer. Both of Mahi's albums were re-released on CD in the last few years.
Performed in Nalani Kele's Polynesian Review at the Las Vegas Stardust Hotel for 13 years
He returned to Hawaii in 1974 and he performed at many of Hawaii's top venues including the Princeville and Westin Resorts on Kauai and the Turtle Bay Resort on Oahu.

Mahi Beamer at Celebration Aumakua in 2008
Pictures of Mahi Beamer with Amy Hanaialii, Robert Cazimero, DJ Billy V, and Nina Kealiiwahamana at Amy's "Aumakua" CD release party in August of 2008.

Recordings by Mahi Beamer
The Remarkable Voice of Hawaii's Mahi Beamer
- 2004 CD Release Party for Above Album
- Review of Above Album
More Authentic Island Songs by Mahi
- Review of Above Album


Mahi Beamer Awards and Honors
2008 Living Treasure of Hawaii Award
Edwin Mahiai Beamer was honored in February of 2008 as a "Living Treasure of Hawaii", at the 33rd annual Honpa Hongwanji Mission awards ceremony at the Sheraton Waikiki Hotel. The award recognizes outstanding individuals for their contribution to preserving and perpetuating the distinctive cultural and artistic heritage of Hawaii.

2006 Hawaiian Music Hall of Fame Inductee
In 2006 Edwin Mahiai Beamer was inducted into the Hawaiian Music Hall of Fame. A July 2007 Hawaii Theatre concert recognizing Mahi Beamer and the other 2006 inductees was completely sold out.

1993 David Malo Award
In 1993 Mahi Beamer received the David Malo Award for outstanding contributions in promoting an understanding and appreciation of the richness of Hawaiian culture and heritage.

1992 State of Hawaii Recognition
The State of Hawaii recognized Mahi Beamer in 1992 as a steward of the musical talent of the Beamer ohana and the leader in the dissemination and perpetuation of the cultural legacy of his grandmother Helen Desha Beamer.

1991 Lifetime Achievement Award
Received a Lifetime achievement award from the Hawaii Academy of Recording Arts in 1991.

Edwin Mahiai Copp Beamer Scholarship
Edwin Mahiai Copp Beamer Scholarship honors the lifetime performance career of singer, pianist, composer, and Hawaiian cultural resource, Mahi Beamer.
---

Related Links
Hawaiian Music Artists - Main Menu
About Hawaiian Music
Hawaii for Visitors

If you have corrections or updates to the any of the information on this page or if you have information or pictures to share about your favorite Hawaii singer or musician please send them to one of the addresses on our contacts page. Note that we can only publish official press photos or other photos for which we have received permission from the photographer. We respect the copyrights of photographers, performers, and writers.
---