The Life of Genoa Keawe
A Timeline: 1918-2008
A timeline of events in the nearly 90 years of Genoa Keawe's life from her birth in 1918 to her death in 2008. I took this picture of Aunty Genoa at the 2006 Aloha Festivals Falsetto Contest where she performed a duet from the audience with young falsetto singer Raiatea Helm, who was onstage. The event took place in the Monarch Ballroom of the Royal Hawaiian Hotel in Waikiki.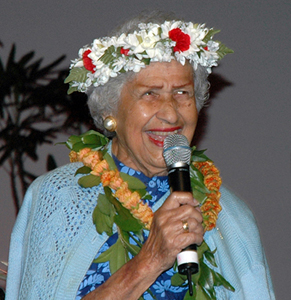 Copyright © Kathleen Walling Fry
More Pictures of Aunty Genoa Keawe
---
1918 October 31
Genoa Keawe was born October 31, 1918. Her full name was Genoa Leilani Adolpho Keawe. She was born in one of a cluster of homes along Kapiolani Boulevard in an area of Honolulu known today as Kakaako. The former site of those homes was later the site of the Theo Davies Car Dealership and McKinley School. It is often said she was born in a stable, but that is because the Hustace Peck Stable Grain Bins were located in that area. When she lived in that area it was a flat area of coral fields with very little development except their cluster of homes. Her ethnic heritage was Hawaiian, Spanish, English, Dutch and German.
,a href="http://hcdaweb.org/the-kakaako-connection/2002%20NOV.pdf/download"> Aunty Genoa Keawe Remembers Kakaako (PDF)

1928
Her family moved from Kakaako, Honolulu, Oahu to the island of Kauai for a few years, and then they moved back to Kakaako. In 1928, when Genoa was about 10 years old, her family moved to Laie on the North Shore of Oahu. I believe Genoa Keawe was raised by a single mother.

1930
Genoa keawe joined the Laie Morman Church Choir at age 12. She was lifelong member of the Church of Jesus Christ of Latter Day Saints. Her sister Annie, who was a great influence on her music, sang in the choir with her.

1934
She graduated from the 8th grade in 1934. She said her mother could not afford to send her to high school and she was very busy singing at Church events.

1935
A year after graduating from the 8th grade she met her husband Edward Puniweai Keawe-Aiko. She ;married him in 1935 when she was 16 years old. I believe they had 12 children but some reports say they had 11. Her husband died before her, but I'm not sure what year. Her Mother in Law taught her how to speak Hawaiian. She livede with her in-laws in the Kahana Valley on Oahu for a few years and later she moved back to her old neighborhood where she raised her family on Miller Street.

1939
her professional career began in aboutu 1939 when she began singing for bandstand shows in Kailua. Before World War II began she also sang at officers clubs and other military clubs with George Hookano and his band.

1941
In the early 1940's she sold leis and $2 single-stem roses to military personnel to help cover family expenses not covered by her music performance income. She also worked for a while as a taxi driver, mostly providing service ersonnel between Honolulu and Wahiawa in Central Oahu.

1944
She called in to Uncle Johnny Almeida's radio show because he asked singers to call in. She asked to sing, and he invited her to the studio where she sang "For You, a Lei". She was an instant hit.

1946
She recorded her first album in 1946. Her first record label was the 49th State Record Company. She recorded for a while as "Genoa Keawe and Her Hula Maidens" and later as "Genoa Keawe and Her Polynesians". After recording for 49th State Records, she recorded for a while on Don McDiarmid Jr's Hula Records label.

Late 1940's and Early 1950's
One of her recordings was a 78 vinyl record recorded on June 27, 1949 at Club Polynesia. It included the song "Kaulana O Hilo". During the early 1950's she performed at many of Hawaii's top clubs including Club Polynesia, Aloha Grill, Knights Inn, Hawaiian Village, the Sierra Cafe, and the Biltmore Hotel. For a while she was part owner of the Club Polynesia.

1953
She and her family moved to Papakolea on the Big island of Hawaii. She was still living there when she died in 2008.

1966 (Her Own Record Label)
She was not happy with the deals record producers were offering musicians. too much $ for them and not enough for musicians who did all the work. After she had a falling out with hula records she started her own record label, "Genoa Keawe Records" in 1966, with her son Gary Aiko and vocalist Joe Keawe, who was a relative of her husband. She was assisted in this effort by her friends Mr. and Mrs. Philip helsley and a $25,000 loan from the First Hawaiian Bank. Her husband and family helped take care of her children while she produced and distributed her own records She was very hands-on, and handled much of the bookkeeping and public relations herself. She even delivered some of the volume orders in person to large stores such as Sears, Woolworth, Kress, and Arakawa's.

1966 (Japanese Tour)
1966 was also the year she performed in Japan for the first time. Her first job was to open the Joban Center Resort and Spa. Following that she did a three month tour of Japan, putting on shows every day in different parts of the country. She was a huge hit with Japanese audiences.

1971
In 1971 Genoa Keawe hosted a banquet to honor her patron John K. Almeida. She first heard him sing when she was 11 years old and she met him in the 1940's. he invited her to perform many times on his KULA Radio show.

1970's
She opened the Hawaiian School of Music, Language, and Hula in the Pauoa Valley. She taught singing and ukulele (what year did that school open?)

1995
The Marriott Waikiki Beach Resort gave her a contract to perform at thier hotel, first in one of their lobby lounges and later in their open air Moana Terrace Lounge. She performed for for about 14 years. Her last Moana Terrace performance was on January 31, 2008, less then a month before she died.

1998 (approximately)
She was diagnosed with breast cancer at age 80. They recommended she do chemotherapy or remove breast. She said "I've lived a full life. When the lord is ready to take me, I'll be ready." (note: she also had heart surger. what year was that?)

2000
Genoa Keawe received the National Endowment for the Arts Lifetime Honor, 2000 NEA National Heritage Fellowship.
NEA Profile of Genoa Keawe

2002
She appeared at an event known as the Kakaako Ocean Fest in 2002 where she sang and shared her memories of living Kakaako when she was a very young child.

2007 October 31
She performed in great form at her 89th birthday party and celebration. I'm not sure on exactly which day the part was held but her 89th birthday was October 31, 2007.

2007 January
In January of 2007 Genoa Keawe received the 2007 Oo Award from the Native Hawaiian Chamber of Commerce.
NHCC Genoa Keawe Profile

2007 May 14
Genoa Keawe received the Pacific Business New (PBN) Gladys Kamakakuokalani Ainoa Brandt Kupuna Award for 2007 because of her successful business struggles and her ability to maintain firm control over her company.
Aunty Genoa Keawe: Hawaiian Lady of Song

2008 January 31
Her last performance at the Moana Terrace of the Marriott Waikiki Hotel was on January 31, 2008.

2008 February 1
Entered Queen's Hospital in Honolulu.

2008 February ?
While she was in the hospital she performed over the phone for a benefit she could not attend.

2008 February ?
Discharged from Queen's Hospital.

2008 February ?
Before she returned to her home in Papakolea she stopped at the Marriott Waikiki Moana Terrace lounge to watch her 26 year old grandaughter Pomaikai (Pomaika'l?) sing her parts at her regular Thursday show.

2008 February 25
Genoa Keawe died at age 89, in her sleep, at her Papakolea home. She died about 1:00 a.m. Service arrangements were handled by6 Borthwick Mortuary and services were conducted by the Church of Jesus Christ of Latter Day Saints, a church she belonged to all of her life. She was survived by three of her twelve children: Her 1st child Gary P. Keawe-Aiko, her 8th child Eli Kaeo Paalua, and her 11th child Eric K. Keawe. Nine of her children died before her. Their names were Moana, Arthur, Victoria, Edward Jr, Samuel, Miriam, James, Kauilani, and Sonny. Upon her death, her family recognized the spouses of her children who have always provided support when needed: Howard Lono, Iwalani (Ho), Frederick Amina, Snooks (Watson), Barbara (Buchanan), Patrick Ah Yuen and two hanai daughters Suzie Harrison and Roberta Silva.


---


MORE FACTS ABOUT GENOA KEAWE:
She battled illness the last 10 years of her life.
Was hospitalized Feb 1 but was discharged after improving.
12 children (some reports say 11)
40 grandchildren
98 great grandchildren
150 (or 81?) great great grandchildren
One of her children was Erik K. Keawe of Keawe Records
she taught ukulele at Windward community college workshops at their Hawaii Music Institute.
In her career she also toured Russia, Alaska, the US continent, Tahiti and Japan.
Sang on the radio and early tv. was a regular on Robert Luck's "Luck Luck Show". Also sang on nationally broadcast show "Hawaii Calls" and sevgeral clubs and hotels on Oahu.
She sang in both Hawaiian and English. She also worked as a lei seller and taxi driver Popular singer Alice Namakelua helped her with her hAwaiian language phrasing and vocal style.
She never drank and never smoked.
When she was very young her family had no electricity but she lsitened to hawaiian music on a radio at a friend's home.



ABOUT HER BAND:
Her band was sometimes called Genoa's Hawaiians, Genoa Keawe and Her Hula Maids, Genoa Keawe and her Polynesians.

Most of her recordings are now available on CD. (most popular were between 1940's to 1960's)



Her most requested songs were:
Alika (her signature song)
Lena Machado's "Kaulana O Hilo Hanakahi
Alice K. Namakelua's "Nani"

MARRIOTT WAIKIKI
she performed there every thursday night for 14 years, through her cancer diagnosis and haert surgery. her last performance at Marriott was January 31st. She went to hospital on Feb 1. Her last performance was singing from her bed for a hula funderraiser she could not awttend for health reasons. She sang over th phone. she went home from the hosptial the thursday before she died.j before she went home she visited the Marriott to hear her grandaughter Pomaikai sing her (Genoa's) part.

QUESTIONS:
What yaer did she begin singing with the Honolulu Rapid Transit Musicians.

See also:
---
Related Links
More About Hawaiian Music Artists
Hawaii Music - Main Menu
Hawaii for Visitors
---