2007 Oahu Falsetto Contest
The 13th annual Aloha Festivals Falsetto Contest on Oahu took place on September 28, 2007 at the Sheraton Waikiki Hotel in Honolulu, Hawaii. The 1st place winner received $500 in cash and a recording contract with Hula Records. The three runners up received smaller cash prizes and the winner of the Best Hawaiian Language Performance Award won $300 in cash.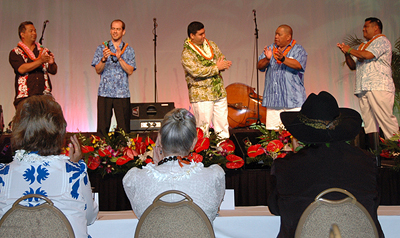 Copyright © Kathleen Walling Fry
---
Winner
1st Place: Kukahoomalu Souza

Outer Island Contest Winners
Did all of these guys complete at the Oahu event? (Stephen Young performed at the 2007 contest, but I don't think he competed)
OAHU: Kukahoomalu Souza (I know he competed and won)
KAUAI: Stephen Young
HAWAII: Christopher Agpoon - Article with picture
MAUI: Kapono Nailiili

Masters of Ceremony (MCs)
Frank B. Soria, Jr.
Karen Keawehawaii

Judges
Vicky Hollinger

Hall of Fame Inductees
Andy Cummings
Gabby Pahinui (his grandson Gabby, Cyril's son, accepted)
George Kainaau
Kai Davis (son Kahu Wendell Davis accepted for his father)

Articles
Video Clip of Harry B. Soria and Bill Wynne

Coming soon:
Guest Performers

COMMENTS FROM KATHIE: In the August 28, 2007 Honolulu Star Bulletin newspaper there was an article seeking contestants for the falsetto contests on Oahu, Maui, Kauai, and Hawaii Island. That announcement said the contests would take place September 7 on Kauai at the Hilton Kauai Beach Hotel, September 8 on Hawaii Island at the Hapuna Beach Prince Hotel, September 28 on Oahu at the Sheraton Waikiki Hotel, and October 12 on Maui at the Maui Arts and Cultural Center. It's interesting to me that the Maui contest was held after the Oahu contest because I thought the Oahu contest was considered a finals event for all of Hawaii. Hmmm... something else interesting! A September 28, 2007 Honolulu Star bulletin article says the winners of the Oahu contest get guaranteed entry into one of the three neighbor island contests. I thought it worked the other way around... outer-island winners got guaranteed entry in the Oahu finals event. To be continued...

See also:
---
Related Links
Hawaiian Falsetto Singing
Hawaiian Music Events
Hawaiian Music - Main Menu
---